Protect your Instagram profile from spambots and ads
17 Nov 2021

Get free from advertising: block commercial profiles on Instagram
SMM-managers are cashing in on the inexperience of ordinary Instagram users. That's enough! SpamGuard will put an end to that.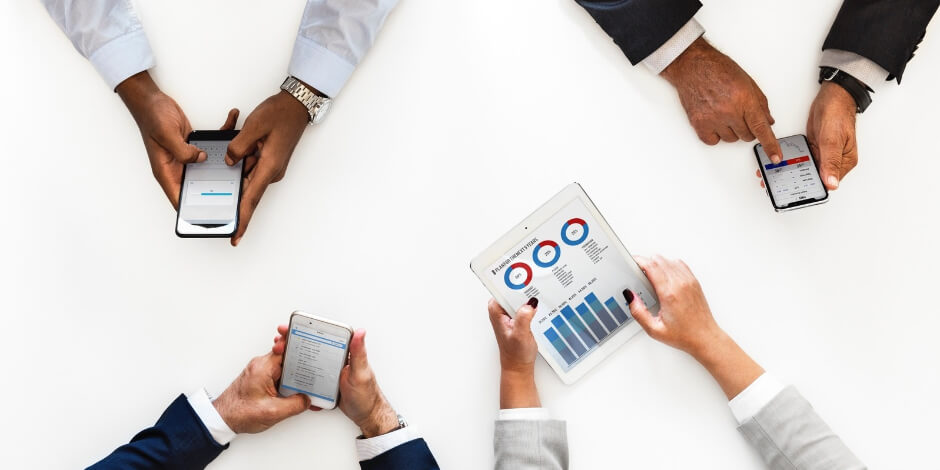 In June last year, the number of registered Instagram users reached a billion point. This is 13.1% of the global population. For comparison: in Russia live 147 million people (1.9%), in the USA — 327 million (4.3%), in Europe — approximately 692 million (9.1%). If all accounts belonged to real people then almost one person in eight around the world would be an Instagram user. If you take the average height of an Earthman even over 1.5 meters, then Instagrammers put on each other would be enough for covering the distance to the Moon four times!
How to remove inactive followers
Life is sadder than bright prose
Dry statistics give only a rough idea of reality. Not every registered person is a live person. Fakes, bots, long-abandoned inactive pages are a casualty, coming out of high-profile figures. Instagram is actively combating the upcoming threat, putting into operation self-learning programs that process huge amounts of behavioral data. Smart algorithms thoroughly analyze comments, likes, take into account the uniqueness of content, calculate audience coverage in order to distinguish between "dead" users and real ones. A page that is followed mostly by fakes will, at best, go down several positions on the feed, at worst it will get banned.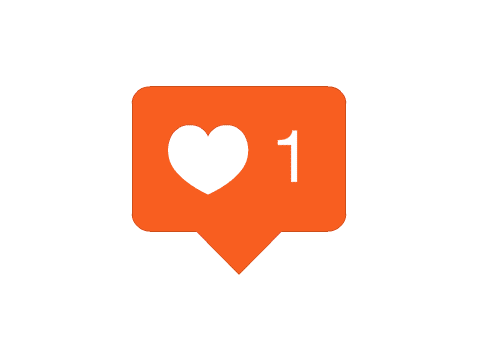 Why people register fakes? There are many reasons. Spam, advertising, cheating, compromising competitors: Instagram robots would find it suspicious an account which is gaining an audience of a thousand people per second.

Entrepreneur's scalpel
Nevertheless, the number of live users is still huge: Instagram is really very popular. This turns a photo- and video-sharing-oriented social network into an excellent platform for promotion of stores and brands. Flashmobs, viral hashtags are often the result of deliberate marketing campaigns.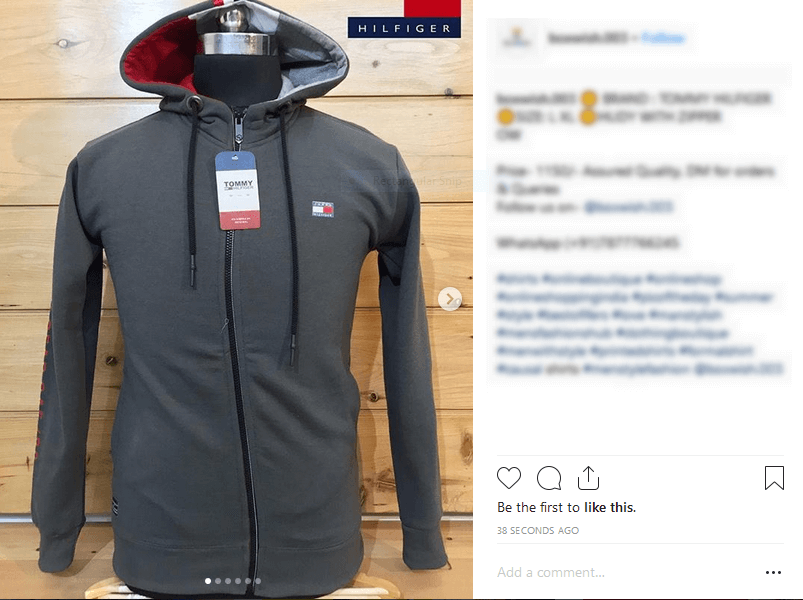 How to attract the attention of potential buyers?
How to check instagram account for bots
Through advertising
Instagram has a special pages class called business accounts. They are designed for online stores. As compared to regular ones, these business profiles have several advantages:
redesigned interface for communication with customers;
convenient monitoring of followers and posts, a set of metrics;
simplified advertising purchase.
Indeed, these are useful tools for trade-oriented pages. Increasing sales is a tedious task, every straw counts.
It's clear why business needs advertising.
Why do YOU need advertising?
How to write creative Instagram captions for your goods
Other people's trade engine
Instagram business profile' task is providing traffic. Only ten of a hundred who noticed the page will open it and only one of ten will order something. And what about ninety-nine Instagrammers who aren't interested in wasting time on advertising? Commercial accounts are often very annoying. The point of their existence is to turn your attention into valuable traffic. Attention is time, time is money. In this aspect, they are no different from spam bots or fakes which are randomly scattering likes and meaningless comments just to light up themselves.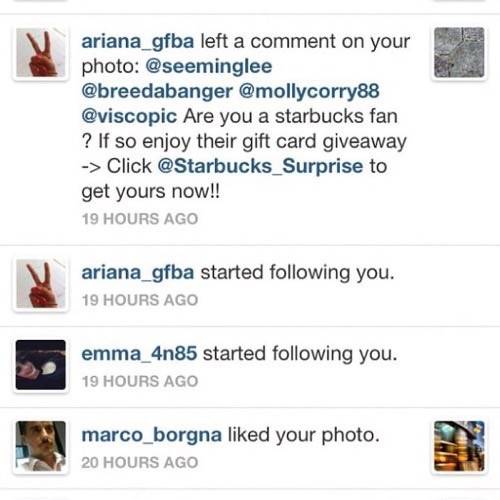 Know your enemy!
Spambots.
Fakes
SMM-specialists.
Not everyone will survive
You probably know and if you don't know, then read above about how the "dead" followers affect your page position on Instagram feed. Brand profiles in many ways shown themselves "dead." It's unlikely that an SMM salesman who is burdened with a heavy duty to conduct correspondence with clients in social networks around the clock on behalf of the company will be interested in photos from your holiday.
Difficult ways to unfollow bots and a simple one using SpamGuard!
Regular users visit Instagram for communication. They post details of everyday life, share thoughts. A salesman needs to work. He is a busy person.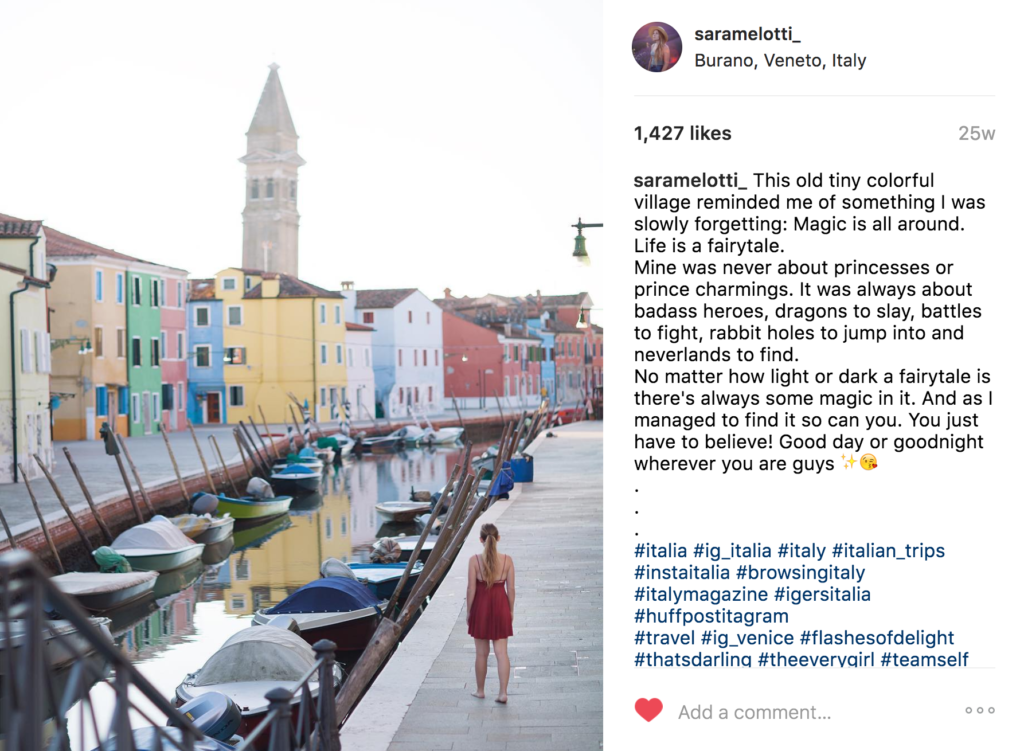 If your page collects more conditionally uninterested SMM sellers, spam bots and loaded with advertising fakes, it will fall lower in the feed. "Ballast" will pull you to the bottom. And if not to deal with this ballast radically, then you're risking to turn the entire hard-earned popularity into zilch. Firstly, your page will go downwards of the feed. Then the influx of new readers will stop, old ones will begin unfollowing you slowly. This is natural. People always leave and you must maintain a greater flow of newcomers. Losing followers is easier than finding them.
Psychological techniques to attract and persuade your audience
It's a big load off your shoulders! Dangerous "ballast" is necessary to cut off.
How?
Spamguard
A dumping "ballast", as in any good deed, has a fine line between optimization and sabotage. Beyond the edge is an abyss. How not to fall!
Instagram algorithms evaluate a wide range of different parameters. For gathering readers instead of a legion of bots — a direct path to defeat. But manual cleaning of all fakes at once can give you an unpredictable result in terms of effects on parameters. One-time blocking is also not an option.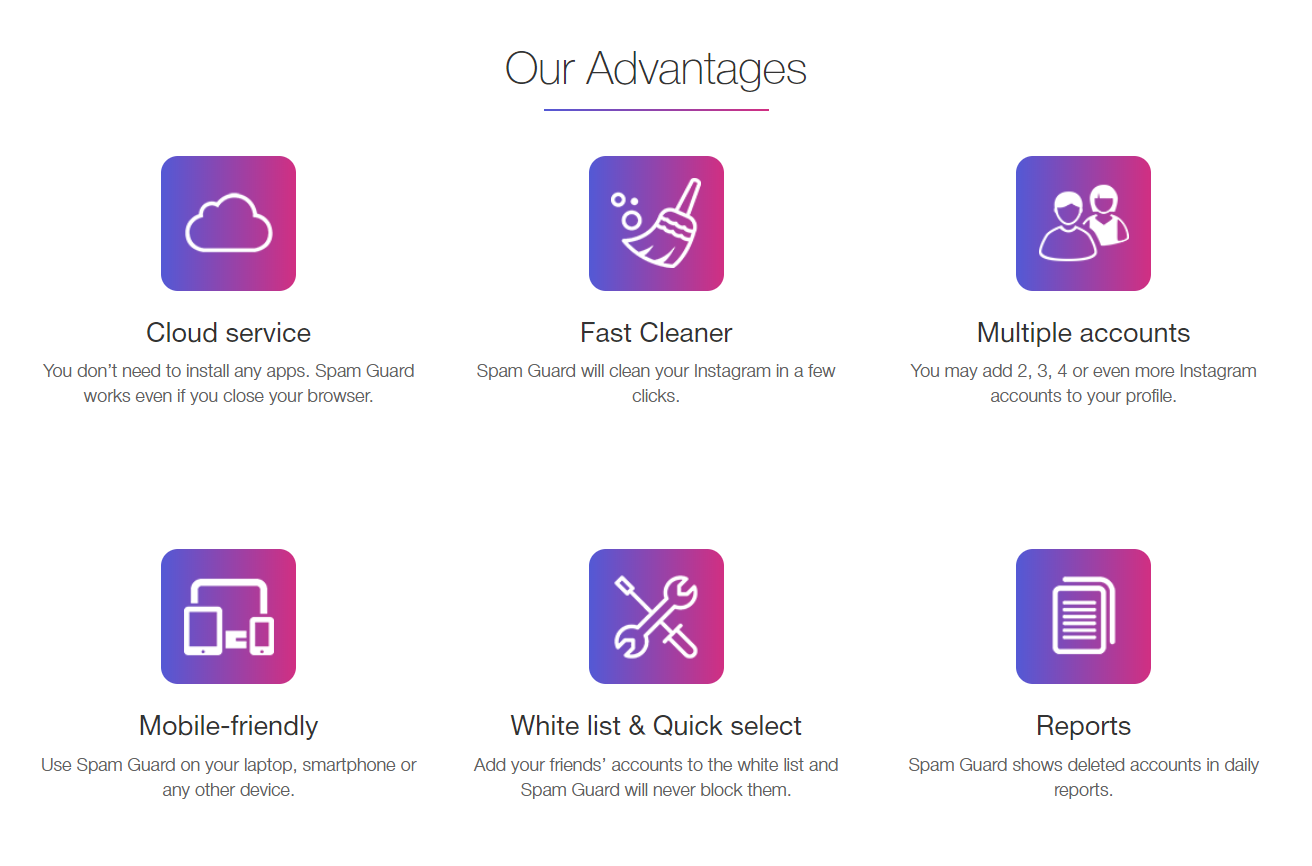 In addition, sometimes it's impossible to distinguish a bot with a naked eye. Funny avatar, a bunch of comments and likes don't always indicate a living person.
It's better to run robots against robots and to delete evil SMM-geniuses you need to use an automated service created by other SMM specialists. To date, the best option is SpamGuard.
VSCO — a photo editing program. How to use it to make beautiful Instagram posts
SpamGuard is a tool for analyzing, monitoring, and optimizing Instagram pages that deal with bots, commercial accounts, and non-reciprocal or inactive readers. The setting up is simple and involves only four steps:
Sign up for SpamGuard, connect your Instagram account, sync it. Let this app start the analysis.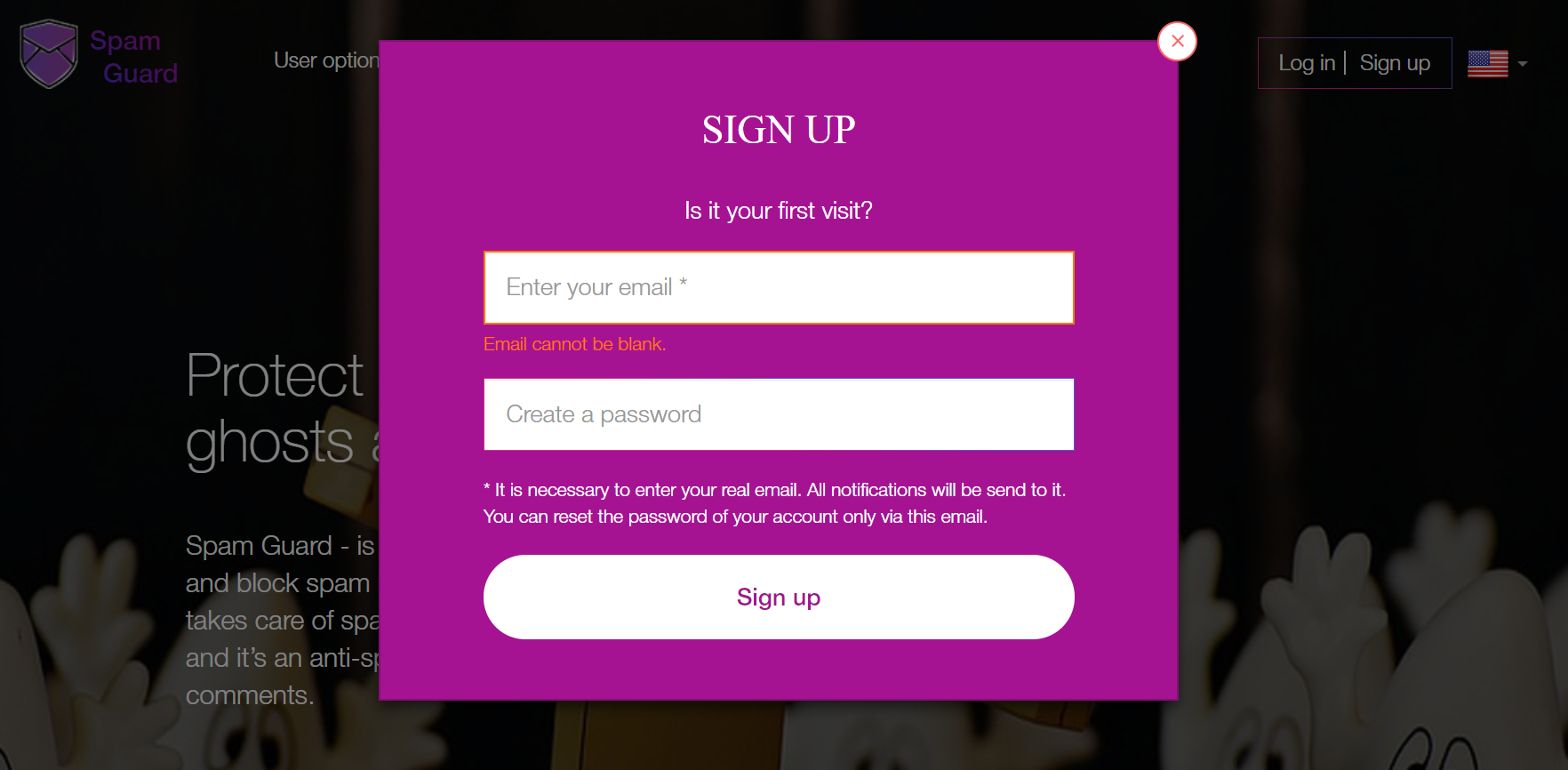 2. Wait for this analysis to complete: researching your account will take time.

3. View the results, add all necessary followers to a white list, unnecessary — to the blocking list. Followers will be divided into groups: bots, non-reciprocal accounts, inactive accounts, commercial pages. You can clean the group simultaneously or gradually: for a given number of followers per day or for a given percentage of the total number of followers.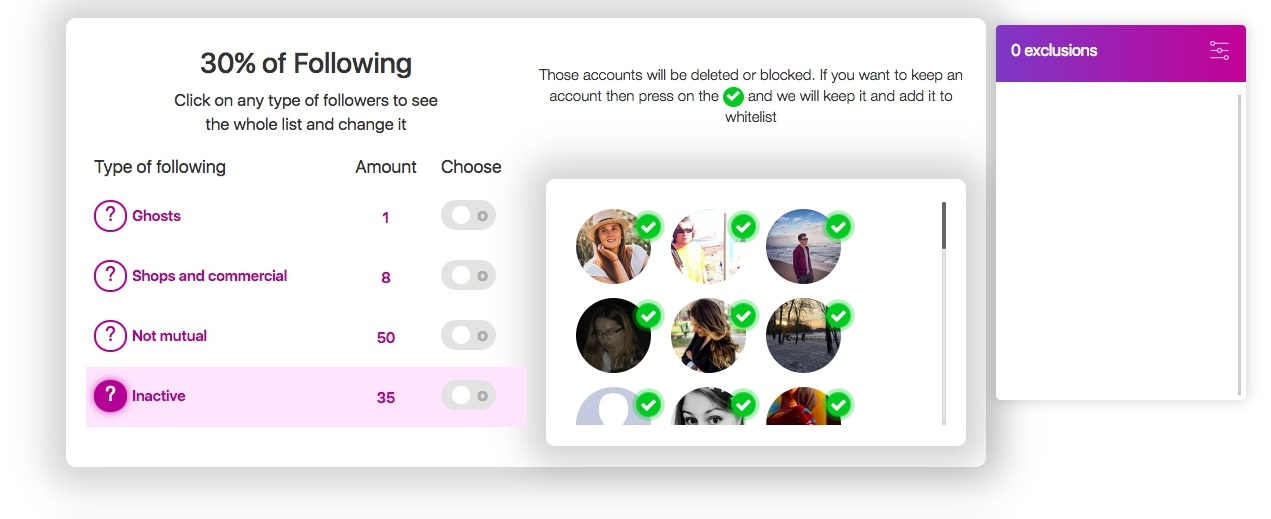 4. Enable page protection — a self-learning algorithm that will block unwanted readers daily. They will be determined based on your previous blocking carried out under your direct control.