How to remove all followers on Instagram at once
28 Sep 2018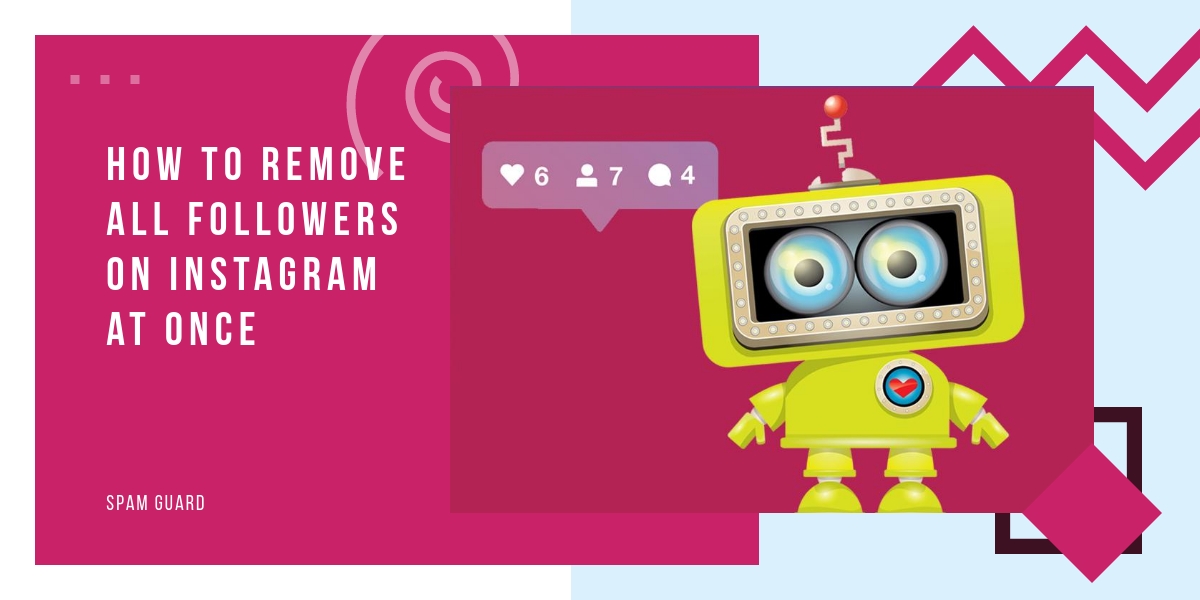 Sometimes after improperly cheating followers on the Instagram social network, you have to make big attempts to remove useless accounts from the list in your profile. There are several nuances in this process that can significantly speed up the removal without serious consequences for the page owner. If the question of how to clean followers on Instagram is relevant, it's worthwhile to consider the fast and secure services that provide such an opportunity.
You can delete a follower on Instagram manually. This is a simple scheme that becomes problematic when you have several thousand unnecessary followers. To delete them manually will take you a long time, and your page can be blocked due to the violation of certain limits set on IG.
Also, you can use specialized tools that assume a similar service to their users. In this case, it's essential to pick a platform that ensures all limits set in the social network will not be exceeded, and unnecessary followers will be also deleted.
The Best Ways to Get Your Instagram Subscribers Talking
Needless followers are illegally added bots, stores, other commercial accounts, and pages with more than 2,000 followers. They don't see your posts, respectively, don't like them and are not your potential customers.
One of the greatest tools is Spamguardapp. With this service, you can delete unnecessary followers who have liked your page. With Spamguardapp, you don't have to bother about the limits being violated. On the contrary, the service system is continually adjusting in accordance with Instagram requirements.
Remove non-liking followers
How can I delete a follower on Instagram via this service? It has certain settings that, after registering your account in the program, study the activity of all followers, and selects only those who leave their likes or comments under your posts. The statistics are studied in the past 30 days to give you a more detailed evaluation of the followers' activity. This enables to leave people who at least once rated your photo or post for this time.
This can be described as a cardinal method, but if you don't clean your followers, then your coverage on Instagram will fall drastically. The main reason is that the ratio of likes, comments and other marks in relation to the number of followees doesn't strongly coincide. In addition, don't be upset that there are fewer followers. They undoubtedly attract attention with the quantity but they lose in quality if don't give any result.
Unfortunately, you can't remove followers at once. This is due to the very established limits. However, Spamguardapp does everything quickly enough, so there is no need to wait for a long time.
How to clean a profile from Instagram bots that engagement didn't fall, but increased?
The great side of the service is the possibility to change the required filter during operation. So, the platform answer to the question of how to find out who manually unfollowed you on Instagram.
After the full analyzing of a profile, it's possible to start the procedure of unfollowing unwanted accounts. The analysis allows you to filter not only bots, commercial pages, stores, it also provides filters for the language on which comments are written, or accounts that are foreign.
In addition, the service has many great aspects. It doesn't need to be downloaded, so you don't have to worry about the place on your smartphone. Just create a backup, and Spamguardapp can be used on any of your devices. You can create a list of "white" and "black" accounts. That is, the whitelist will not be deleted when the service starts.
Also, Spamguardapp makes it possible to study reports on the work done, which is an essential nuance, since not all such tools provide the necessary information about removed followers.
Spamguardapp is a tool with an easy interface that will be easily understood even for beginners. And no less significant benefit is that you can try the service for free, using the test mode and under certain conditions. After that, you can choose whether to stay with Spamguard for a fee or not to use it anymore. But, bearing in mind the democratic price that the service offers, as well as feedback about its work, we can conclude that Spamguardapp is an excellent choice for cleaning followers.
Your Personal Instagram Administrator
If you are interested in how to quickly remove needless users from your Instagram page, then Spamguard service has not only a detailed instruction about how to unfollow all on Instagram immediately but also reviews from real users. Removed Instagram followers will no longer be able to see your posts if you don't want.
The service functionality is easy to understand. It perfectly and accurately performs all the necessary actions and is configured for any user needs. Use Spamguardapp — and removing unwanted followers will not be difficult anymore!