10 Simple Tips to Create More Engaging Instagram Posts
28 Jun 2019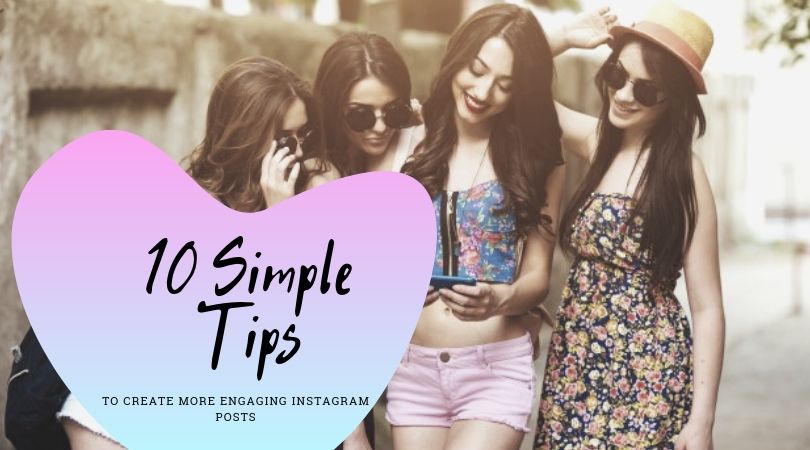 Some Instagrammers complain that despite their efforts, they can't increase the engagement rate. This situation may be caused by two reasons.
The first reason is that accounts of these Instagrammers are mostly followed by spammers and inactive users. So no matter how strong bloggers try to engage the audience, they have no chances to succeed, because their audience is a fake.
The second reason is all about the quality of the posts. In this case, Instagrammers should try to create more engaging posts. If you also faced this problem, here are ten tips for you on how to improve the situation.
Don't overuse hashtags
As you know, Instagram allows using up to 30 hashtags. But it doesn't mean that you should add 30 hashtags to every caption.
In reality, excessive use of hashtags irritates users. So the fewer tags you use, the better. Experts recommend choosing from three to seven descriptive hashtags that are relevant to the message you want to deliver.
Be honest with your followers
When you publish sponsored posts, don't forget to add hashtags #ad and #sponsored. Firstly, this is a legal requirement of the Committee for Advertising Practice. Secondly, if you want to build trust with your followers, you must be honest.
Some influencers believe that hashtags #ad and #sponsored scare followers away. But it's not true. In fact, social media users respect influencers who disclose information about their collaboration with brands.
Use humor
If you want your followers to fall in love with your profile, you should learn how to write funny captions. You should use humor to entertain your target audience and to draw attention to your bright personality.
Try to make people smile, and they will reward with high engagement. Don't be afraid to look funny. You are not risking your reputation.
Indeed, you don't need to try to write a long, hilarious story. Your Instagram caption may be one sentence long, and that will be more than enough.
Add a personal touch
Whether you are a fashion blogger or food blogger, you should write not about trendy dresses and juicy steaks only. You should also share information about yourself and your personal life.
Your followers wonder who is standing behind that beautiful Instagram photos. And you should provide your audience with the opportunity to know you better.
If you want to create more engaging posts, try to share your childhood memories, hopes, and dreams. If you are married, tell your followers how you met your husband. If you were bullied at school, write about things that helped you to get through the dark times.
Start a dialogue
Remember that you should not only produce content but also interact with your target audience. You should use your Instagram posts as a tool to communicate with your followers and define their "pain points".
Your task is to start a dialogue and keep it going. The first step you should take is to come up with a good question to ask. The second step you should take is to reply to the comments you get.
Well, if you have got a thousand comments a day, obviously you can't reply to everyone. But at least you should try. The more you communicate with your followers, the higher engagement rate you generate.
Celebrate your small victories
If you have something to celebrate, don't forget to share the good news with your audience. Whether you have bought a new car, or have reached 25.000 Instagram followers, don't hesitate to write a post about your small achievement. It will help you to get closer to your followers.
Share positive vibes, and your audience will reward you with likes and cheerful comments. Yep, it's that simple to engage the audience.
But here is one important note for you. Make sure that your post doesn't sound like you are boasting. For instance, if you have bought a new car, you can write that it was your big dream and that you worked hard to accomplish it.
Give a piece of advice
Remember that your followers see you as an expert in your niche. It means that they want to know your expert opinion about the topics they are worried about.
So if you have some tips and tricks to share, don't hesitate to share them. Instagram users tend to save this type of posts more often. And according to statistics, posts with tips create very high engagement.
Don't leave your posts without captions
Do you create high-quality visual content but can't come up with great captions? Feel free to ask professional writers for help!
Catchy captions will help you to boost engagement. And it will help you to take your Instagram profile to the next level.
But remember that you should find an expert whom you can trust. You don't want one poorly written post to spoil your reputation, do you? Check out paper writing services review and interview your prospective writer before making a final hiring decision.
Use witty quotes
Surprisingly, posts with quotes are still trending on Instagram. So if you have no idea for what to write about in your caption, you can use a quote from the book you have recently read, or from the movie you have watched.
It's worth mentioning that you should never use the well-known quotes that your followers have already heard a hundred times. You should choose sayings that are not very famous, yet witty and memorable.
Try something new
If all your Instagram posts look the same, it's a big problem. And you should solve this problem immediately.
If you want to boost engagement, try to be different. If you tend to publish bright pictures, post a black-and-white photo. If you usually write 50-words captions, try to write a longer post.
Do some experiments and see how your target audience reacts on this or that type of posts. Find your own formula for success on Instagram.
In conclusion
If you want to create more engaging posts, don't be afraid to change your strategy and try something new. Use the recommendations given, and you achieve the results you expect.