Writing Instagram Captions that Set You Apart
07 May 2020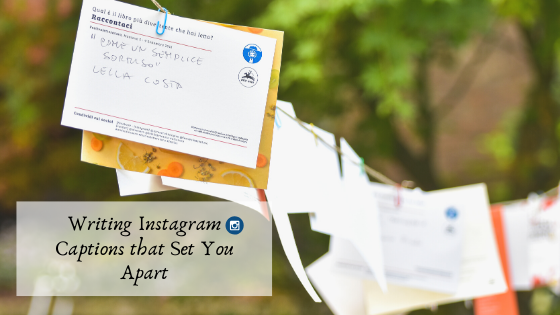 So, Instagram is visual – no surprise here. And, over the years it has expanded from photos to carousels, to videos, and more. But, in the end, it remains visual.
And here's the thing: given the amazing tools that everyone now has to create amazing visuals, your visuals alone will not make you competitive. Your goal is that visitors/followers will find your posts more engaging than others. Unless you are a celebrity, unfortunately, you have to do more than just post great visuals. You have to find some additional ways to captivate your audience.
So, exactly how do you do this? One of the ways is to create amazing captions to go along with your visuals – captions that will captivate, engage, and have your followers coming back for more.
What can you do with captions? A lot actually. Instagram allows 2200 characters per caption. This means you can add a lot of great content by writing Instagram captions - they can be just as engaging as the visual. Here are some suggestions for using Instagram captions to both captivate and keep your audience:
Your account has a context – you have a product or a service about which you have expertise and which you promote. This is your niche. If our expertise is in the area of lawn and garden, then it wouldn't make sense to start posting about financial investments. Not only will you confuse your followers, but you will have no credibility. And they will go elsewhere. So, the first rule is this – stick with your niche and work within it to add your personality to your posts, through captions that show who you are. Followers want to know who you are – put in some related personal information about yourself. Relate a personal experience that goes along with the visual.
Unless you are Rolex or Cartier, there is no need to turn off your audience with academic and high-end vocabulary and sentences. The reading level should be about 7th grade, so keep that in mind. And you don't need to worry about complete sentences, just spelling. That can be a turnoff. Writing Instagram captions is not a formal process – be witty, creative, and have some fun.
Tone and Style Should Match Your Brand
You know your following – at least you should if you have done the research. And you know how your brand appeals to that following. The language you use, the tone you take, and the writing style should be consistent. Think about this: Red Bull will have a very different tone and style than a wedding caterer. Use the slang and the abbreviations you're your audience knows and understands. "SMH" might not be understood by a senior citizen, for example. You get the picture. Whatever your brand "voice" is, your captions should be a match.
It's hard to be creative and witty and really promote your brand. If you do not have the in-house staff to do this, then consider some outside resources for writing Instagram captions for you. Many businesses do just that. Here are just a few that you should consider:
These can be your own stories or how about stories from your happy customers? WD-40 is a master at this. Their customers have found hundreds of great uses for a product that was once sold only to loosen bolts and fix squeaky hinges. There is almost a cult following for WD-40 now, on lots of social media platforms. Customers want to tell their stories, and Instagram is a perfect place to spotlight them and get yourself some social proof too. Solicit these and then write captions that use their own words.
Always Have a Call-to-Action
You would not be posting on Instagram if you didn't want your followers to do something about what they view and read. Whether you want them to like, share, link to a product page, or even "buy now," you have to tell people what to do. Nathan Chan is a master with captions and calls to action. He gives very specific instructions and usually offers something in return. He should know what he is talking about. He has taken Foundr Magazine to a multi-million dollar company, and he only focused on Instagram for the first months of his marketing.
Yes, SEO is not only for Google. Users of the Instagram search for topics too. If you place the most popular niche keywords in writing Instagram captions, you can attract more visitors. The rest of that caption should obviously be compelling and maybe make an offer that has a limited time or a link to get some freebie or discount.
Don't Forget to Track and Test Your Posts
Here's a thing that many Instagram posters do not always think about. You can conduct lots of analytics on your posts. And if you are working hard on creating those great captions, you will want to know how they are resonating with your audience. Take a look at those posts that are getting the best traction, see if you can find commonalities among the captions, and, if so, repeat those same types – language, style, tone, CTA's, etc.
Your Marching Orders
So, here you have seven strategies, tips, and suggestions for Instagram captions. Engaging captions will take time and effort either on your own part or as you outsource their creation. In the end, though, captions that resonate will build your audience, your brand, and, ultimately, your profits.
Author Bio: Diana Adjadj is a social media marketing consultant for a number of businesses, including Wow Grade and Supreme Dissertation. She also creates social media posts for these same companies. When not working her "day job," Diana involves herself in a number of exotic animal rescue organizations.