How a Creative Individual Should Keep His/Her Instagram Account
20 Jun 2018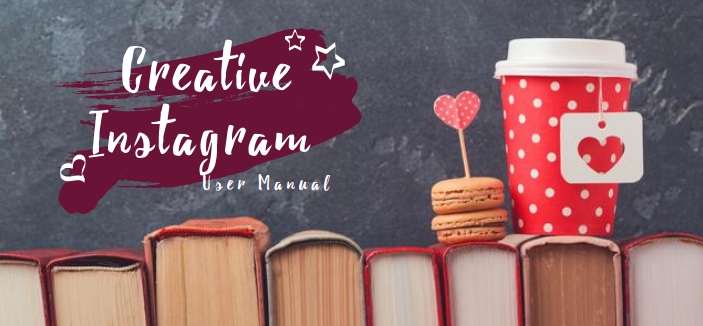 There is a category of craftsmen, who are really concerned about taking advantage of the network as a site where they can demonstrate and sell their products or services. These people do need to attract attention to their creative activities and promote them by any means.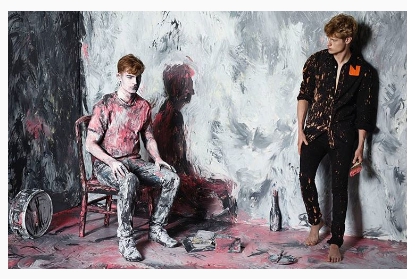 You will never succeed in selling your products, if you lack a properly arranged profile. This means that, apart from worthwhile products and their photos, as well as exposing your pictures or services, you should also strive to increase the audience engagement. Your clients, both prospect and existing, will inevitably forget about you as soon as your creative works will stop showing up in the feed and collect views in Stories.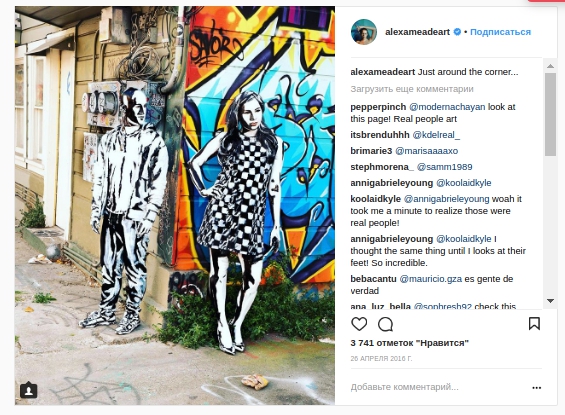 To make the rank-based Instagram feed see you more often, you need to have active followers, which you can communicate with, and who will comment on your works, put likes under your own posts and visit your account every now and then.
Your primary enemies are:
Bots;

Commercial accounts;

Spamming;

Non-active followers.
If you do care about your reputation and would like to grow and be noticeable in Instagram, clean your account of all kinds of bots and spam. To save your time, consider using the service named Spam Guard. It can take into account your individual preferences and:
Organize a non-removable white list;

In the black list, mark certain bot groups or highlight specific profiles;

Block incoming spam messages and their sources;

Memorize profiles which act as spam senders and prevent them from accessing the protected account.

All you have to do is just to set some preferred parameters. That done, the service will do everything for you in a fully automatic mode.
Along with this, the software will secure compliance with action limitation rules set by Instagram, which will prevent banning your personal page. The social media will apply this kind of blocking measures in case it detects that you unsubscribe from numerous users too often and massively.
Presence of active followers will increase your engagement, your account's posts will show up in the feed more frequently, the statistics will improve, new clients will come in, and you will start receiving direct orders from them.
How It Works
Your initial step should be signing up on https://spamguardapp.com/.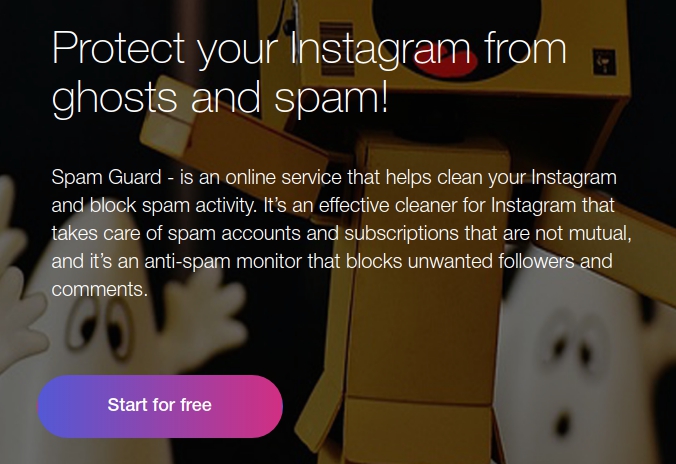 Fill in a simple form and provide your Instagram account.
If you have several pages, don't hesitate to add all of them. It's very convenient! The number is not limited.
Now, you can run the account analysis. The service will, based on the number of your available followers and the number of your active pages, calculate how much such protection will cost .to you
To each and every artist or writer, it is important to gather a target audience and exclude inactive spectators, bots and e-shops. Auxiliary features offered by Spam Guard can help resolve the problem fast and securely. For example, go to the "Language" tab to deny non-Russian accounts, which will effectively remove all Arab bots.
This service's test version is free. By following relevant instructions provided on the website, you will easily understand all relevant settings and find out how helpful this service can be for you personally.
The software developers guarantee that all personal information of users will be kept absolutely confidential.
Copywriters will find useful such feature as account selection for white and black lists based on a specified occupation. To facilitate the search, users provide keywords in the heading of their profiles, so "Copywriter" shows that the individual; belongs to a community of your peer competitors. To add to or exclude from a list, you can choose either groups by keywords or individual accounts.
To an artist, it is important that many social media users could see his/her works simultaneously. Oftentimes, to achieve this, so called SMM (mass following, mass liking) tools are used. However, processes of this kind attract attention not only of a desired target audience, but also of spamming bots. With Spam Guard activated, this will not be possible any more. Additionally, the service will memorize a harmful source of spam and successively block its repeated attempts to break the defense and access your profile.
You can interrupt the aforementioned cleaning process and adjust relevant settings in a manual mode any time you like.
Performing a full analysis will take some time, which is dependent on how many followers and bots you have on your personal page.
Promotion Rules
Those interested in gaining popularity through live broadcasts, stories or demonstration of training webinars will find helpful the information that targeted advertising focused on a certain target audience will work much more effectively, if you have no idle followers or bots among your subscribers. As soon as in a week, you will have an opportunity to make sure it's true upon examining your new account's statistics.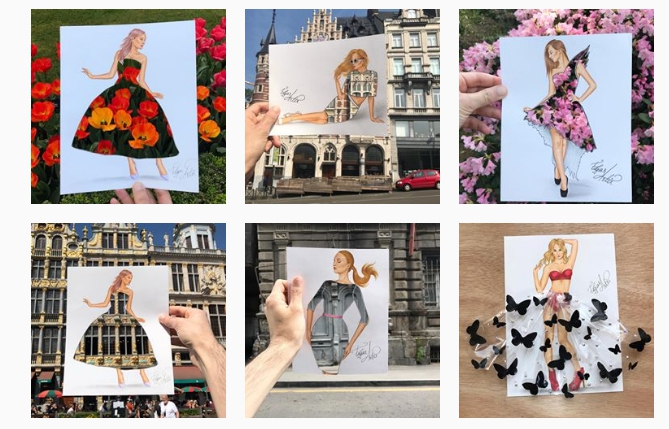 Networking is one of available approaches to promotion in social networks. This is a popular system of mutual social relations supposing that everyone should keep communicating with his/her loyal audience and engage further, more remote circles of acquaintance. If some interesting accounts like you and post their comments to you, do not hesitate to make the same for them in return. In case you face problems with engagement, it is even more helpful to offer masses your topical comments regarding posts you find deserving reading. Remember, however, that those would be agreeable and useful phrases of at least four words.
If you are willing to develop your creative account on a paid basis, the easiest way to do this is through barter collaboration with other bloggers: you write a selling text for someone (copywriting) and get a positive review in exchange; or you present them a magic cream, and they give a video for your Stories.
Such methods are superior to any kind of bots. Instead of idle followers, you will get an excellent advertisement reaching out to broad audience.
Advantages of This Service
Spam Guard makes it possible for any creative project to promote itself by removing negative comments, communicating with a relevant audience directly, keeping the reputation and maintaining the image on a high level.
Does not require the Internet connection to run.

It's absolutely secure.

It offers affordable pricing.

It reduces time investments.

This is a worthy substitute for an Instagram administrator.

It saves storage space of your mobile device (no application setup is required).

Access from any kind of device.
Do not deprive yourself of a pleasure to develop in a creative manner with the Instagram platform. Nowadays, the quality of your supporters and comments on your page is much more relevant than their number. Spam Guard is the service built to help you achieve this.