How to delete an Instagram account
17 Oct 2022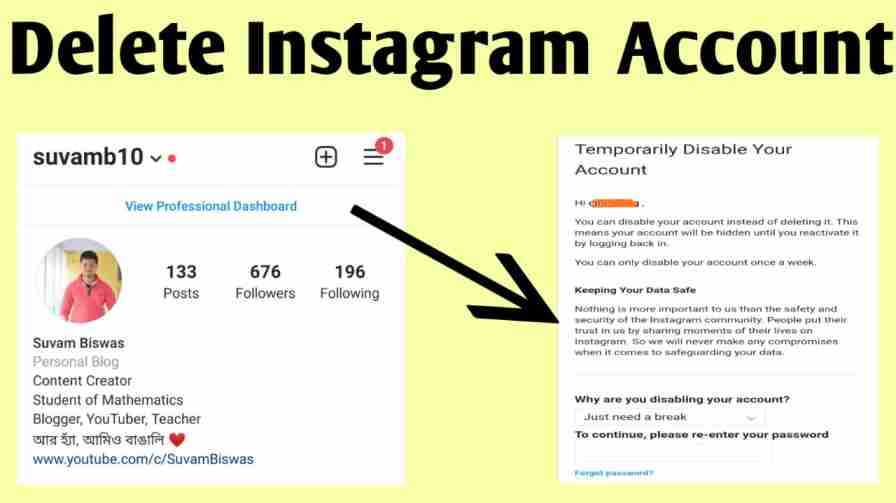 We've included instructions for permanently removing an Instagram account using your phone or desktop.
How to delete an Instagram account permanently?
Deleting your Instagram account from your PC is simple and can be done in any web browser. This solution also works on mobile devices. On an iPhone, use Safari or any of the browsers installed on your device to delete your Instagram profile. Use Chrome or Yandex browsers to delete Instagram account from phone.
Important note: If you delete your profile, you will not be able to recover it afterward. If you're unsure if you want to lose your page completely, try deactivating account rather than deleting it.
During this time, you can make the necessary decisions, affecting your profile on Instagram.
Important note: if your account has been terminated, you will also lose your nickname. Meanwhile, if you do not register a new account with the same username quickly enough, any new user can choose it. However, if your account has been banned for an Instagram rule violation, you will not be able to use the same username.
All you have to do to erase your profile is submit a request on the support page. Technical support will respond to your request shortly. Carefully read the terms and conditions for deleting your account before you proceed. Follow these steps:
- Make sure you're logged into your account; else, it won't work. So, to access your account, go to the login page.
- Navigate to the "Delete Account" option in any browser on your desktop or mobile device.
- Choose the appropriate response to the question, "Why do you want to delete your account?"
- Instagram may provide several alternative methods to keep users from closing their accounts. However, if you are sure how to delete Instagram account permanently, select the "Delete Account" option at the bottom of the screen.
Your Instagram page will not be deleted instantly because each request takes 30 to 90 days to process. Your posts, likes, and comments will be hidden from all visitors to your page.
Other people will usually not see your profile page after a month, and your data will be permanently removed. Developers will store a backup copy of your account for 90 days for various reasons, including recovery of information after its loss during a natural disaster or for investigative purposes.
Delete your Instagram account temporarily
If you don't want to delete your social network profile permanently, you can deactivate it temporarily. All your photographs, likes, and comments will be removed, and they will only return if you decide to reactivate your account.
While you cannot disable your Instagram account through the app, you can do it using your desktop or smartphone browser. So Here's How to delete Instagram account from Android phone:
- Launch a browser and navigate to the instagram.com website.
- To access your Instagram user page, click on your profile avatar.
- A little pop-up menu will appear on the left side. Select the "Edit Profile" option that just appeared.
- Scroll to the bottom of the screen and select "Temporarily disable my account."
Only select the reason that is truly the cause of your account deletion. Whether you want to delete a bad comment or any other material, Instagram has various solutions for you. It will present you with multiple options and directions for using the program.
How can I save all of my Instagram posts in one place?
If you delete your Instagram profile, you will lose access to all of your posts and will most likely be unable to restore them, which is why we recommend downloading all the images to your phone or computer if you want to save them. For instructions on How to delete Instagram account Android, see the short video at the bottom of this page.
Because Instagram allows users to export all their information for local storage, it merely takes a few simple clicks. As a backup, an email will be sent to you with a link to a compressed version of the raw data you published on social media. All the content from your Instagram feed, including comments, followers, saved posts, direct messages, etc., will be saved.
You can backup all of your data using the Instagram app for Android or iPhone:
- Touch your profile photo at the bottom of the webpage to enter your page.
- You may enter the menu by clicking on the three bars in the top right corner of the screen.
Go to "Your Activity" to download your data and select that option.
- Once there, you must enter your email address and password.
Follow these instructions, and you should receive an email with a link to download the archive within 48 hours.
Now you know how to delete Instagram account permanently from Android phone.