Cristiano Ronaldo shots to top of Instagram rich list
12 Nov 2022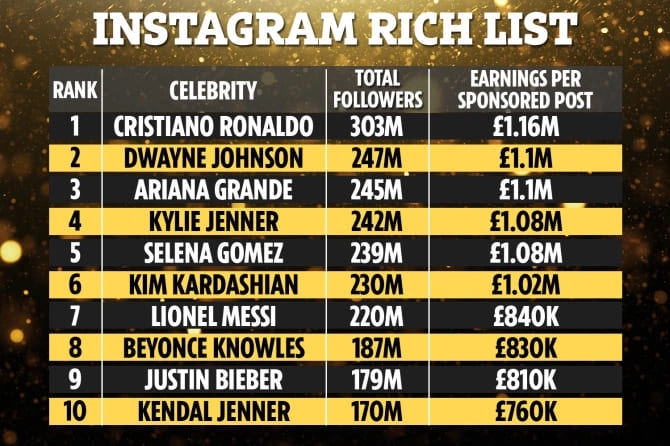 Cristiano Ronaldo is the first person to reach 200 million subscribers on Instagram. Today you can be sure that Ronaldo instagram is one of the most followed sources in the Internet: more than 224 million users follow his life. The figure is comparable to the combined population of Great Britain, Spain, Italy and Portugal, that makes Cristiano the most influential man in the world. Let's look at how he reached the Instagram top and what he is talking about with his followers on Instagram.
What is Cristiano Ronaldo Instagram like?
Don't try to find something personal in Ronaldo's blog. His Instagram account looks like a football glossy magazine: photos from the matches, some
advertising photo sessions and only few personal pictures. Of course, the sportsman allows his followers enjoy his photos, but he is not going to let them into his personal life. He is not interested in active communication with his subscribers. Due to his popularity it's a reasoned and understandable decision. In the eyes of fans he must be only a super-footbal player and nothing more. If he chats with his followers and shows some scenes from his every-day or family life, his image will suffer.
What type of content is presented on Instagram Cristiano Ronaldo?
Ronaldo's Instagram account is not diverse. From time to time the athlete posts some photo or video from his matches and training. Of course, our guy is too busy to control his account on his own - it is a work for his manager. The texts are very difficult to find on his Instagram - Ronaldo's team prefers the short posts.
Instagram-posts is the only-format Cristiano regularly uses. Sometimes, he publishes stories and not very often broadcats online. When you visit his Instagram account for the first time - you are sure to notice that there are no highlights. One may think that Ronaldo or his manager are too busy to manage the most followed man on Instagram account. And at the same time it remains extremely popular. And how do you like this, Selena Gomez?
But don't think that Ronaldo does not work on his Instagram-account. He regularly updates the Instagram every one-three days to keep good reach. When he does not post new photos you may see one home-workout or the team photo session stretched to several posts.
In general, our richest Instagram influencer confirms the emotional factor of activity in the social networks. When giving likes and commenting something popular, bright and attractive, people act on inertia and don't worry about how many other users see their choices. Ronaldo's followers don't discuss something under his posts, they just give him impassioned remarks.
Which companies get paid from Instagram Cristiano Ronaldo?
Ronaldo is working with many brands - Nike, Clear, Herbalife Nutrition, etc. You may watch the list of his partners on his personal website. Nike has interesting integrations on Ronaldo Instagram. Sportswear company efficiently use its ambassador's account for the promotion. Ronaldo pays much attention to development of his own CR7 brand. Under CR7 go different goods: perfumes, shoes, clothes, linens and the other attributes of the male wardrobe. Our guy also appears in campaigns for his brand as a model. The CR7 advertising publications on Ronaldo's page like the majority of his posts are very laconic. As a rule, they are stylish photos or just videos with short captions. Their message usually means customer-pain and a solution for his problem. For example, one sentence is about the cold weather that demands on a good footwear and another is related to the new CR7 winter collection.
How has he become the first on the Instagram rich list?
First, his audience is the entire globe. He is world known not only for his success in football, but for his participation in secular life and the advertising. Everyone should understand that Ronaldo has become the Forbes Instagram due to his achievements. The social network just helps people see his talent. The fans used to collect magazine clippings and stickers with their favourite stars. Now, all they have to do to watch their idol's life is to become his subscribers on Instagram.
Secondly, Ronaldo is working with many big brands: he is the face of Nike, Clear and Herbalife Nutrition. Several years ago he was a partner of smaller companies - Castrol, Tag Heuer, KFC and others. Most of them have millions of followers on Instagram. Of course, they are subscribed to Ronaldo too.
Thirdly, Cristiano has many followers with a blue tick on their Instagram accounts. When they comment some of his posts - the number of Ronaldo's followers get bigger. Famous people always attract attention and new fans.
Fourthly, Ronaldo's account has a great reach as the managers often publish new posts collecting many followers.
And most importantly, he is a handsome and positive man who loves his family and does not walk out anymore.
If you are a new Instagram-blogger, you won't find something useful from Ronaldo's Internet experience. He is popular because he is Ronaldo. His Instagram plays no part in it. Develop your skills in life, work hard and don't forget to add new post on your Instagram-account. That's all.